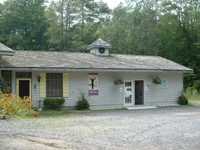 Welcome to Muskoka Place Gallery, located in Port Carling, Muskoka, Ontario.
Opened in June 2004, Muskoka Place Gallery showcases fine art by established and emerging artists, and hosts art classes, workshops, lectures and events throughout the year.
Gayle Dempsey is the artist in residence.
Many thanks go out to Ruth Wagner, Susan Ware and Greg for our new gallery hanging system!
The Gallery is home to a learning community of painters and features various workshops for all ages, including watercolour and acrylic, photography, printmaking, twig furniture, and movement.
There is always something happening at Muskoka Place Gallery. Stop by to view current exhibitions or participate in a class. We're located just outside of picturesque Port Carling in beautiful Muskoka. For directions, click here.
2010 © Muskoka Place Gallery